Jolly Music Player, Beginners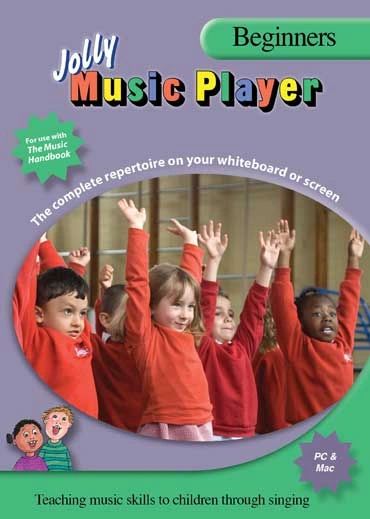 Jolly Music Player, Beginners
by Christopher Jolly, Sue Lloyd, Sara Wernham · Jolly Learning

Jolly Music Player Beginners provides the complete repertoire of songs used in this level. It can be used in conjunction with The Music Handbook Beginners to deliver fun and engaging music lessons to a whole class. Suitable for use on Mac or PC, this software can be used on an interactive whiteboard or simply with an overhead projector and screen.
Key features:
Quick and easy access to any song or teaching track
Songs and rhymes displayed on screen with audio and Big Book visuals
Optional animation feature shows the pulse (represented by hearts above the words) and the timing of actions in songs and rhymes
All the audio from The Music Handbook, Beginners, including lesson playlists for every lesson
Create custom playlists
Access printable song sheets, posters and templates
Download demo of the Jolly Music Player for Mac or Windows PC:
Jolly Music Player Demo Windows PC
You can view a short video demonstrating the Jolly Music Player in action on our YouTube channel by clicking here or on the image below.