Jolly Phonics For The Whiteboard (Site License In Precursive Letters)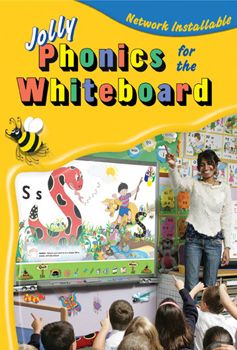 Jolly Phonics For The Whiteboard (Site License In Precursive Letters)
Ideal for whole class teaching of Jolly Phonics through a whiteboard!
The software enables teachers to deliver lessons in a fun and engaging way to children, using a wide variety of activities. With all the resources a teacher requires at the touch of a button, the program is fun and easy to use.
Key Features Of The Software
Suitable for use on Promethean, Smart and all other interactive whiteboards

Software will run on both PC and Mac

Full and extensive year's program for teaching Jolly Phonics

Ideal for use with children aged 4-6 years

Structured daily sessions, complete with teacher's notes that can be viewed or printed

Interactive lessons with lots of blending, spelling and writing practise, ideal for whole class or independent use

Audio option for hearing the letter sounds, Jolly Jingles and Jolly Songs and story option

Extensive selection of worksheets, templates and games that can be printed and used in class to reinforce teaching. These can also be given as homework
Step 1
Provides daily flipcharts, each introducing a letter sound as well as review of letter sounds already taught. So for example, if the letter sound /t/ is being taught the flipchart will provide revision of the previous sounds /s/ and /a/ which will have been taught. By the end of Step 1, children should know all the 42 main letter sounds and the first set of tricky words. This will enable children to blend them together to read and write simple words. Tricky Words in Step 1: I, he, she, be, to, do, the, me, we, was, are, all
Step 2
Builds on the teaching in Step 1. It provides 12 weekly units, and follows a similar format of daily review and consolidation, along with extension topics for the week. These include additional tricky words and the alternative ways of writing the vowel sounds as well as alphabet work.
Step 3
With a further 12 weekly units, Step 3 aims to consolidate the learning in Steps 1 and 2. New tricky words are introduced, as well as spelling patterns plus short and long vowels.
Download The Jolly Phonics For The Whiteboard Manual
Jolly Phonics for the Whiteboard manual for more details of each Step, navigation and system requirements.
System Requirements
PC: Windows® XP, Vista and 7. User with Administrator/Privileged Access Rights for installation, 550MB free hard-disk space, Intel PIII 1GHz or equivalent , 256MB RAM, SVGA graphics (800 x 600 at 16-bit), CD-ROM drive, sound card.
Mac®: (Intel-based) OSX® 10.4 — 10.8 (10.7 – 10.8 require the free Mac update tool for correct installation – download here), 550MB free hard-disk space for typical install, 256MB RAM, SVGA graphics (800 x 600 at 16-bit), CD-ROM drive, sound card.